You are about to enter

*a graphic design exhibition.*
.
.
.
more . . .
go ahead, walk into the gallery now. it's a darkened room, not small, and seems to be roughly a cube. On the walls surrounding you are three large-scale projections, each cycling through what appear to be abstract graphics, scanned pages, short movies. what binds these various bits together? well, you check out where the projections are coming from, and you find three projectors standing on pedestals. on each is an identifying label. The first reads, VIS 215, Graphic Design. after what appears to be a room number and building name (one eighty-five nassau street) is a meeting time. you surmise, clever visitor, that what's on the projected loop must be the work of a particular class in this university. in fact it is. this first one is 'introduction to graphic design' and it shows a sequence of scans of letter-sized pieces of paper, the results of a collaborative exercise where twelve students work together in the typography studio to compose (with individual metal letters) a text titled, 'the crystal goblet, or printing should be invisible.' this is the first class assignment — the second is to set another text, this time 'the new typography,' using a photocopier . . . now, you spin around ninety degrees and find a second pedestal. its label reads, VIS 216, Visual Form. you know the score by now, and you can safely assume this is another graphic design class. this is also an introductory class, but instead of letters, students deal with graphic forms (logos, icons, signs, and so on). three assignments are collected and the first asks students to design a graphic symbol which means 'stop' without resorting to either graphic or linguistic convention. impossible, you say! yes, well they are next asked to design a matching symbol that means the opposite: 'go.' the second assignment is related. these are animated gifs, meant to indicate 'wait' or to show that something is 'currently in process.' these are variations on the well-known and not-loved, spinning beach ball of death that the macintosh shows when the system is busy thinking. the final assignment is more open. students are asked to design a 'model' to understand and communicate the differences between r-g-b (additive) and c-m-y-k (subtractive) color. . . deep breath, now turn around again and look towards the third projection. this one feels largest, and likely because what you see on the wall is a giant apple watch. the pedestal label reads, VIS 415, Advanced Graphic Design. collected here is the work from two semesters of this intensive, workshop class. the assignment is simple, and lasts the full semester — design a new face for the apple watch which tells the time, and (by design) also changes the way you *read* the time. simple, no? and yet the clock is the one part of this interface off-limits to developers. the students begin by considering, with a broad historical scope, how the representation of time effects the ways we understand it and use it . . . like the time on this giant apple watch, nothing sits still in this gallery. each projection continues marching along, showing one student at a time. it's been seven years since graphic design has been taught at this university and

here *now,*

in this gallery are the collected works of

one hundred eighty-four students

who've studied graphic design at princeton university.
Justin Alderis, Kiana Amirahmadi, Russell Archer, Alejandro Arroyo, Lyon Aung, Tim Bauman, Bradley Berman, Maddy Bernstein, Matthew Blackburn, Molly Bolten, Kara Bressler, Ricardo Brown, Cecilia Buerkle, Candy Button, Erin Byrne, Tei Carpenter, Chris Chang, Michelle Chang, Delmar Chen, Mengsi Chen, Richard Cheng, Joseph Choi, An Thien Chu, Gabriella Chu, Alexander Chuka, Bryan Chun, Jacob Comerci, Caroline Congdon, Kiffa Conroy, Erin Curley, Caroline Davis, Alexander Day, Ricardo de los Reyes, Benjamin Denzer, Francesco Di Caprio, Jackson Dobies, Anqi Dong, Logan Dziak, Melody Edwards, Emily Eitches, Nick Elan, Christie Elford, Nazli Ercan, Jose Escamilla, Dominique Fahmy, Alden Fan, CinCin Fang, Maris Fechter, Kathleen Feng, Ferg Ferg, Dalma Foldesi, Michaela Friedberg, Melissa Frost, Max Gallin, Emily Gass, Joseph Gauvreau, Michael Glassman, Isaac Goldman, Samuel Gonzales-Luna, Kandasi Griffiths, Dennis Guo, Matthew Haake, Summer Hanson, Daniel He, Lily Healey, Kelsey Henderson, Elizabeth Henry, Carola HernAndez-Cappas, Sabina Hlavaty, Leila Howard, Dora Huang, Natasha Japanwala, Jessica Ji, Tony Jin, Anna Kalfaian, Keola Kaluhiokalani, Mihika Kapoor, Devin Karbowicz, Bo-Won Keum, Stephanie Kim, Sydney Mieko King, Cody Kitchen, Matteo Kruijssen, Robert Lambeth III, Eugene Lee, Michelle H. Lee, Naomi Lee, Chris Leung, Lauren Lewis, Amanda Li, Eric Li, Ien Li, Diana Liao, Bing Lin, Ingrid Liu, Jennifer Liu, Susan Liu, Adam Locher, Tommy Lomont, Kathleen Ma, David Mackasey, Emily Madrigal, Cameron Maple, Chitra Marti, Julia Meng, Jose Meza, Cara Michell, Hannah Miller, Katherine Miller, John Kyle Morone, Jessica Mulligan, Lester Nare, Caleb Negash, Jacquie Nesbit, Felicia Yan Ng, Ada Nguyen, Rosaleen Nguyen, Chad Nuckols, John O'Neill, Juliet Oh, Karen Ouyang, Neeta Patel, Milena Phan, Sean Poosson, Laura Preston, Kate Prucnal, Crystal Qian, Hansen Qian, Emily Redfield, Jessica Reed, Colin Reilly, Marissa Reynolds, Grace Riccardi, Sam Ritter, Matthew Rogers, Kathryn Rose, Maryia Rusak, Hannah Safford, Elias Sanchez-Eppler, Nicole Sato, Gabriel Savit, Eli Schechner, Jesse Seegers, Summer Shaw, Diana Shi, Andrew Sondern, Chloe Song, Alice Stanton, Zachary Stecker, Henry Stolz, Tehila Stone, Emily Sullivan, Andrew Sun, Janet Tambasco, Eugene Tang, Adam Thomason, Andrew Tran, Lagan Trieschmann, Paige Tsai, Emily Tseng, Nathan Tyrell, Neha Uberoi, Juan Sepulveda Varon, Wesley Verne, Drew Wallace, James Wang, Patrick Wasserman, Emily Wiebe, Michael Wiest, Louisa Willis, Katherine Wolff, Brendan Wright, Jeffrey Wu, Juliana Wu, Simon Wu, Natthamon WutilerTcharoenwong, Caresse Yan, Yolanda Yeh, Tiantian Zha, Irvin Zhan, Demi Zhang, Jenny Zhang, Maggie Zhang, Jonathan Zong
*a graphic design exhibition* is presented by IN-FO.CO from july thirteenth through july twenty-eighth, two thousand eighteen. the gallery is free and open to the public on fridays and saturdays from twelve pm until six pm. with thanks to princeton university for their support of the exhibition, otis college of art and design for their support of the accompanying lecture series with david reinfurt, and the graham foundation for their support of the related book a *new* primer of visual literacy, forthcoming from Inventory Press. THE font USED for the names was designed by lily healey. the font that you're reading now was designed by neeta patel. the exhibition was organized by david reinfurt with eric li, kathleen ma, and jonathan zong.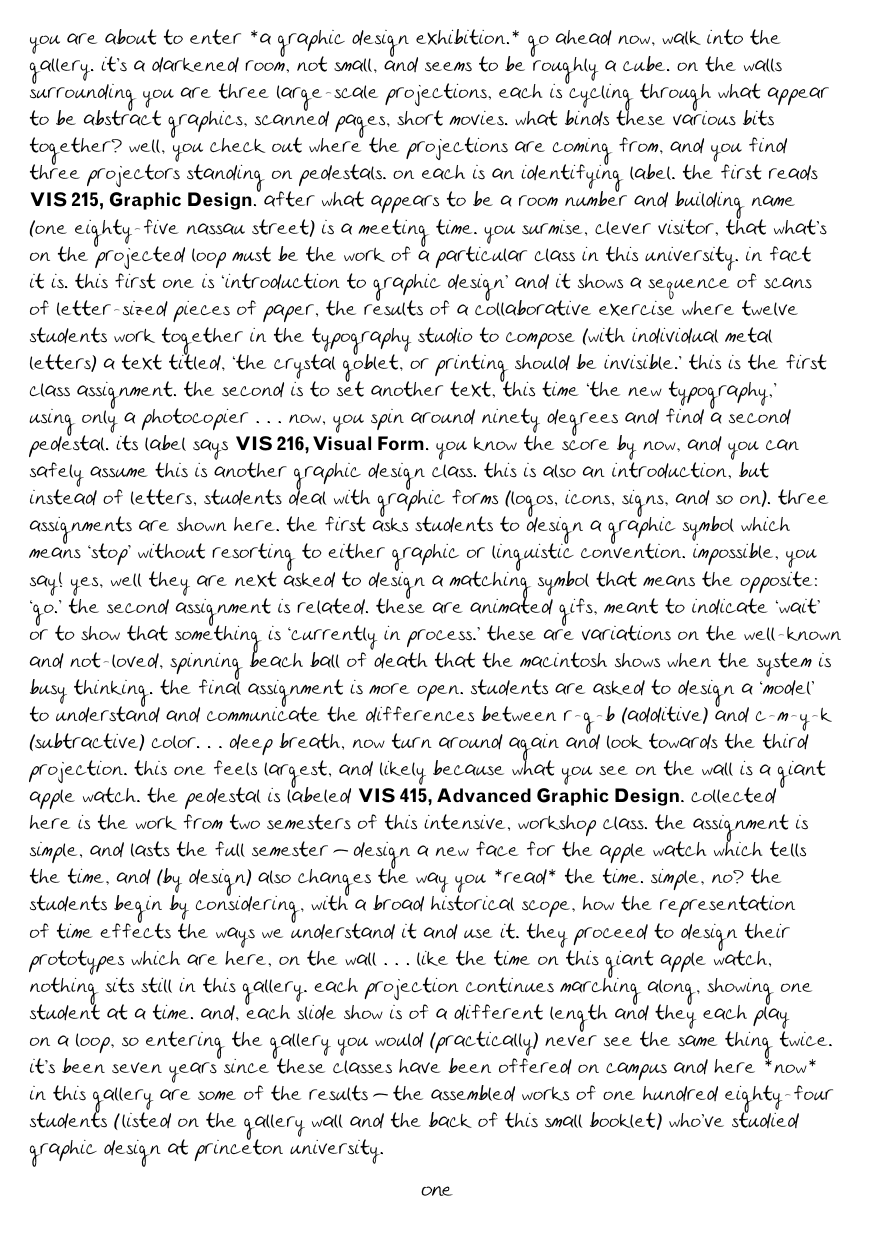 guide.pdf
close